Shop our Wines
We can ship wine direct to the following states:
NY, PA, MD, MA, NH
Shopping in: AL, AK, AZ, CO, FL, GA, HI, ID, IL, IN, IA, KS, KY, LA, ME, MN, NE, NJ, NV, NM, ND, NC, OH, OK, OR, SC, TN, TX, VT, VA, DC, WA, WV, WI, WY? CLICK HERE

Please note:
Orders are generally processed & shipped within 2-3 business days. Delivery times vary based on location; please allow for 5-10 business days. An adult over the age of 21 must be present to sign for the shipment. For our full shipping & return policy, click here: Shipping & Return Policies

Seyval Blanc Pétillant Naturel
2022 Pét-Nat of Seyval Blanc offers lively aromas of lemon, lime and honeydew melon. It is exuberantly effervescent on the palate, with hints
of pineapple and banana, and a refreshing zesty acidity.
Review this item »

Black Diamond Express
Limited Production Wine
Black Diamond Express is back! This great red blend won't last long.
1 Review(s)



Sparkling Riesling
This youthful sparkling wine spent three months in tirage, using encapsulated rather than traditional Champagne yeast for the secondary fermentation in order to preserve the delicate aromatics of the Riesling variety.
Review this item »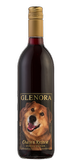 Chase's Reserve
Featuring our SpokesPup Chase, a Hurricane Katrina Survivor. A portion of the proceeds from each bottle will be donated to local animal charities across the United States! Learn more about Chase by clicking on this product!
4 Review(s)

Audacious Apple
Flavors of red and green apples, with a crisp finish!

4 Review(s)

GG's Reserve
A delightful blend of Cayuga & Chardonnay featuring our second winery SpokesPup GG! Click on this product to learn more!
1 Review(s)