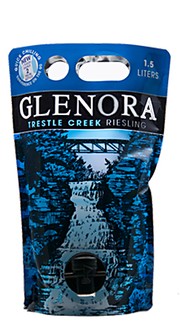 The 1st U.S. wine available in this lightweight, environmentally-friendly, unbreakable package

1.5L is equivalent to 2 bottles of wine. There are approximately 10 glasses per pouch.

The AstraPouch is a sleek, durable, and efficient pouch that is the new alternative to the heavier glass bottle and bulky bag-in-box standards. Used to package wine and other non-carbonated beverages, the AstraPouch can chill the product quickly, won't let air in while pouring and has a low carbon footprint. The AstraPouch features a convenient handle and allows wine to be free from the "no glass" rule.

Glenora's Trestle Creek Riesling has fresh apricot and peach aromas. This luscious, semi dry wine is balanced with crisp, natural acidity, characteristic of New York's Finger Lakes region. It is ideally suited with Chicken, Fish, Vegetarian, Asian, or as an Apéritif.
Wine Specs
Product Reviews
William Starr

(Aug 6, 2011 at 5:06 PM)
I have purchased more than 10 packages of the Trestle Creek Riesling over the past year and find this wine to be very refreshing, especially with chicken and pork dishes. Every time a friend passes through I have them pick up two more.
Sheryl

(Dec 14, 2013 at 4:55 PM)
We purchased a bag of this wine after staying at the Glenora Inn and tasting some samples at the winery. My husband and I really enjoyed this wine, but I was a bit skeptical about the pouch thing, but it really does keep the wine fresher. We had this wine in the fridge for nearly a month after opening it and the last glass tasted just as good as the first. Very convenient, easy to store and pour. Might not seem as classy as an expensive bottle with a cork, but looks can be deceiving.