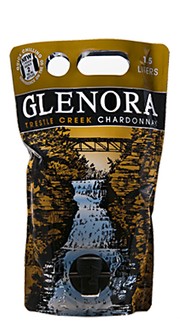 Trestle Creek Chardonnay in 1.5L AstraPouch
Glenora Trestle Creek Chardonnay in the new lightweight, environmentally-friendly, unbreakable package

1.5L is equivalent to 2 bottles of wine. There are approximately 10 glasses per pouch.

The AstraPouch is a sleek, durable, and efficient pouch that is the new alternative to the heavier glass bottle and bulky bag-in-box standards. Used to package wine and other non-carbonated beverages, the AstraPouch can chill the product quickly, won't let air in while pouring and has a low carbon footprint. The AstraPouch features a convenient handle and allows wine to be free from the "no glass" rule.
Wine Specs
Product Reviews
Greg Fisher

(Jul 29, 2011 at 6:35 AM)
A very nice Chardonnay to accompany grilled chicken and shrimp hot off the BBQ or sipping around the camp fire! The packaging is a real plus also; no corks to mess with and light and easy disposal when empty.