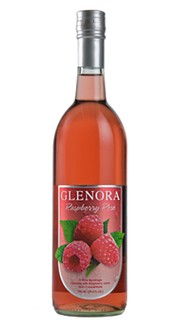 Raspberry Rose is part of Glenora's Fruit Series. Reminiscent of fresh raspberries.
Wine Specs
Wine Profile
Food Pairing Notes
We pair this with our chocolate raspberry fudge.
Product Reviews
Evita Bizzell

(Dec 16, 2011 at 6:58 PM)
The only wine that I truly like to drink! It has a wonderfully sweet and fruity raspberry taste that is made for savoring. I will be ordering again very soon! Thanks for continuing to make this wine!
Lisa

(Jul 31, 2012 at 12:38 PM)
Fantastic raspberry taste with such a smooth, sweet flavored wine! Someone introduced this wine to me when they went to the winery. Thanks to them I have found my new favorite wine! Yummy and enjoy! You won't be disappointed with this sweet wine :)
Carleen Newton

(Sep 8, 2013 at 2:40 PM)
Sooooo yummy! Reminds me of a raspberry jelly doughnut. So very good over ice.
Desiree B

(Dec 24, 2013 at 6:13 AM)
This is a lovely, delicate, fruitful glass of decadence!
Jean and Bill Thompson

(Dec 31, 2013 at 4:27 PM)
Very Tasty, served this at Christmas Dinner 2013, everyone loved it...
simone

(Mar 2, 2014 at 5:08 PM)
Taste is so good this is by far the best wine I've had. Sweet and great taste
Rick Hyer

(Apr 26, 2014 at 6:52 PM)
If you like your raspberry wine to taste like raspberries, this is the one!! Actually has raspberry juice added to it, according to the tasting server.
Beth R

(Dec 30, 2016 at 5:37 PM)
I love this wine!!! If you are looking for a smooth sweet wine, this is the wine to buy. You wont be disappointed.
Terry

(May 22, 2017 at 9:32 AM)
I love almost anything raspberry...and this sweet wine is awesome! You can really taste the raspberries. My new favorite!
Autumn

(May 22, 2017 at 7:17 PM)
I really haven't found a wine that I like. My mom gave us a choice to pick whatever flavor she had and I chose this raspberry rose. Safe to say I finally found a wine I LOVE!