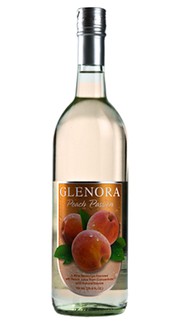 Peach Passion is part of Glenora's Fruit Series. It has juicy, succulent flavors of fresh peaches. The finish is sweet and pleasant.
Wine Specs
Product Reviews
BRIAN TYSON

(Dec 6, 2011 at 7:14 PM)
THE BEST PEACH WINE I HAVE EVER HAD!!!!!
Kelli Fulkerson

(Dec 17, 2011 at 5:38 PM)
I LOVE this wine! It has a very fresh, fruity flavor.
Marian Luckenbill

(Jan 24, 2012 at 7:28 PM)
OMG...made the mistake of only buying one bottle, should have bought 2 cases!! It will be worth the drive from PA to buy more. Perfect Peach flavor, not too sweet.
Shawn C.

(Apr 11, 2012 at 9:54 PM)
The best peach I ever had! If you're having company buy a case, your gonna need it.
Kathy C,

(Jun 10, 2012 at 2:51 PM)
I lived in upstate NY 6 years ago and taste tested the Peach Passion. From then on it was the only wine I'd drink. I was so disappointed when I moved to PA and found I couldn't get it anymore. It's the best wine I've ever tasted.
Denise Rich

(Jul 2, 2012 at 4:53 PM)
LOVE, LOVE, LOVE this wine!!! Hands down the best winery we visited in the Finger Lakes & now one of my favorite wineries!
Janice

(Aug 3, 2012 at 6:14 PM)
Love it. Had a friend give me a bottle & my husband & I love it. Wish I had more.
Pamela

(Feb 6, 2013 at 7:59 AM)
It's like eating a fresh peach in the summertime, only better. Delicious!!!
Linda Chase

(May 18, 2013 at 9:25 AM)
I am not a big wine drinker, usually one small glass is enough but I bought a bottle of this locally and I almost cried when my husband and I finished it and we didn't have any more. I have ordered this wine from local stores and our friends like it as much as we do.
Rod Miller

(Jul 9, 2013 at 6:52 AM)
I'm a Peach lover to begin with and visiting from South Carolina (largest peach producer in the US, don't believe what you hear about Georgia) tasting this wine knocked me off my socks!! I only bought 3 bottles last year which was a big mistake and I will be buying a case this year! For some reason they can't ship to SC :o( but if people in the south had an opportunity to taste this gem Glenora couldn't make enough!
Rachael Dixon

(Sep 15, 2014 at 8:11 AM)
LOVE LOVE LOVE this wine. Its my new favorite. Only negative is the low alcohol content but my stomach has a low tolerance so this was actually perfect. (I know that made NO sense.) But I can drink a whole bottle to myself over a few hours and barely feel anything. (Even though I don't drink much and don't drink very often.)
Debra Snyder

(Sep 16, 2014 at 7:28 AM)
We went to a wedding in July & did a wine test & tasted five wines & this wine is so smooth & so good tasting! This the best I ever had!
Emily

(Feb 19, 2015 at 2:03 PM)
My favorite wine by far! I lived in New York for four years and fell in love with this winery and their peach passion wine while I was there. This wine has a sweet taste, and is a great wine for a girl night! Drinks like a peach dessert in a bottle. My only wish is that I could buy/find it PA!
Pam

(Feb 19, 2015 at 4:43 PM)
Best Peach wine ever! Love the fresh tasting peach flavor! Brings back the summertime memories of biting into a fresh peach on a beautiful sunny afternoon!!!
Diane Eveland

(Mar 10, 2016 at 8:32 AM)
I won a bottle of the peach passion at club 86 I LOVE IT!
Chelsea

(Aug 20, 2016 at 8:25 AM)
With only 4% alcohol this was my go to after having my baby. When I was breastfeeding one glass every few days was totally acceptable.
Pat Adams

(Oct 31, 2016 at 2:45 PM)
While visiting my brother-in-law & his wife in Minnesota they opened their bottle of the Peach Passion that they had brought back from their visit to your winery. I am not a wine drinker but this wine is exceptional, outstanding. I was told that the wine stores in Phoenix can't seem to get much wine from the Finger Lakes area so I'm ordering on-line!
Michelle Ann Belanger

(May 22, 2017 at 1:02 PM)
LOVE!!! "Peaches in a bottle". !!