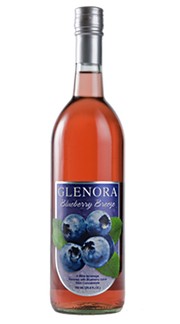 Blueberry Breeze is part of Glenora's Fruit Series.The finish is sweet and pleasant. Reminiscent of Grandmother's blueberry pie.

Wine Specs
Product Reviews
Fernando Alberton

(Jul 26, 2011 at 8:07 AM)
My Name Is Fernando Alberton, do you have catalog? fernandota@uol.com.br
Phoebe Gentile-Knarr

(Jul 29, 2011 at 11:08 AM)
BEST WINE EVER!!!!! WE WERE TO YOUR WINERY LAST WEEKEND AND WILL BE RETURNING AUGUST 20TH!!! IT'S WORTH THE 2 HOUR DRIVE FROM PA !!!
Leslie

(Sep 30, 2011 at 2:42 PM)
One of the best wines I have tasted.
Virginia

(Oct 11, 2011 at 7:55 AM)
Very nice flavor, but I did not know there was added sugar and in some varieties water. Nice blend, but for those of us who need to limit sugar, it should be stated
Sheree Alexaner

(Oct 16, 2011 at 6:39 PM)
The greatest wine I have tasted its a tie between this and the pomagranate. Wish they shipped to PA!! We do plan on returning sometime in the near future!!!
Leann

(Mar 27, 2012 at 4:29 AM)
Absolutely the best fruit wine I have ever had! The other Glenora fruit wines are just as good as well. A perfect brunch wine. Kudos on your fruit series :-)
addie racalto

(Feb 7, 2013 at 10:25 AM)
this wine is the best that i have ever tasted and i recommend it to all of my friends and family. some of our friends in florida have even ordered it online
Melissa Hetzel

(May 25, 2013 at 8:51 PM)
Blueberry Breeze is the best wine ever!!! I love it!! I don't get to New York very often so Im very happy that you deliver to MD!!
Maureen

(May 12, 2014 at 10:56 AM)
Yummy! Poured over ice cubes or (as I did last night) over shaved ice for an adult snow cone, this is THE BEST!
K.Bednar

(Dec 4, 2014 at 2:54 PM)
Wow! Fantastic sweet wine with fresh, pleasant aromas & taste~ many thanks!
Victoria Smith

(Oct 17, 2015 at 5:44 PM)
OMGosh, my sister has been to the Winery, tried this tonight .. I am Hooked!!!! Love It.
Holly S

(Oct 24, 2018 at 6:11 AM)
The best wine EVER!!! It is my favorite. Unfortunately I moved and so I can't travel back to New York to get more. I wish I could get more. You can't find it anywhere else.