The Inn at Glenora Wine Cellars - Accommodations
Every room at the Inn at Glenora Wine Cellars overlooks spectacular vineyards and Seneca Lake and features a private patio or balcony. Our three room types are beautifully appointed with Stickley furniture, creating an atmosphere of simple elegance. Our Vintner's Select guestrooms have whirlpool tubs and fireplaces. All rooms are non-smoking and feature a flat screen TV and wireless internet. A Fitness Room is also available for guest use. Our cozy two-bedroom Vineyard Cottage, located along the vineyards below the Inn, provides a peaceful and relaxing place to stay as well.
Throughout your stay, visit our Tasting Room and Retail Shop, located up the hill, to try our award-winning Finger Lakes wines or take a cellar tour. When you're finished, return to the Inn for a delicious meal at Veraisons Restaurant featuring locally sourced regional cuisine and a wide variety of local wine, beer and spirits. And don't forget dessert!

Vintner's Select Guestrooms

BOOK NOW
Vintner's Select Guestrooms are our most l
uxurious rooms offering a king bed, a whirlpool tub big enough for two, and a fireplace. Many of our Select guestrooms are adjoining, making them ideal for couples traveling together or for families, but they also provide a private atmosphere for those who are looking for a peaceful and relaxing vacation.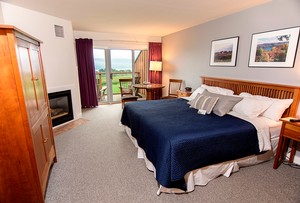 Vintner's Deluxe Guestrooms

BOOK NOW
The Vintner's Deluxe guestroom is one of our most intimate and romantic rooms featuring a king bed and private sitting area. As with all of our rooms you'll enjoy either a private balcony or patio, and a wonderful view of Seneca Lake.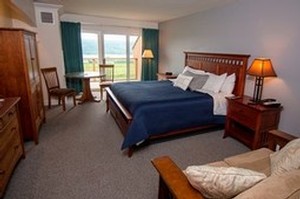 Vintner's Guestrooms

BOOK NOW
Our Vintner's guestroom has two queen beds, a spacious bathroom, and a private patio overlooking the vineyards and Seneca Lake. Enjoy your complimentary bottle of wine while you relax and take in the view.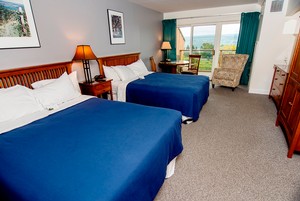 Looking for a more intimate setting? View additional accomodations below.
*The Inn at Glenora does not allow pets. Service animals are allowed with advanced notice and proper documentation.