Events Calendar
Don't miss attending one of our annual events. Browse below to see what we have going on!
September 2019
Leaves & Lobster on the Lawn 2019
12:00 PM to 5:00 PM
Sat, 09/14/2019 - Sun, 09/15/2019
Venue:
Glenora Wine Cellars, 5435 State Route 14, Dundee NY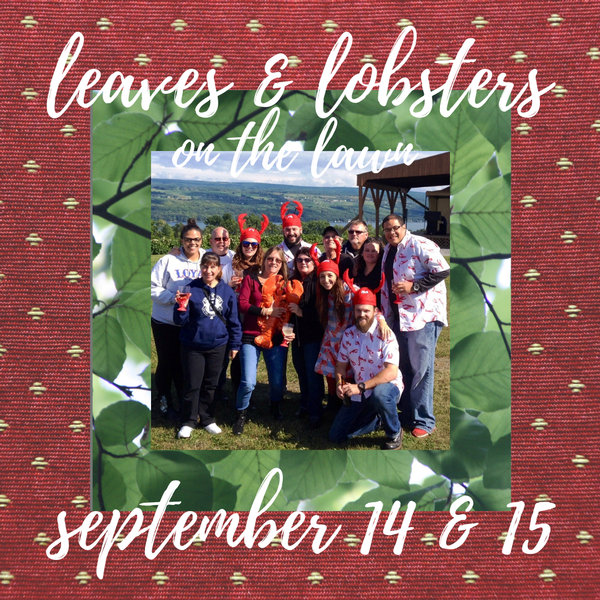 Join us for an unbeatable combination of live music, a panoramic view of Seneca Lake, and a lobster bake on the lawn at Glenora Wine Cellars!

Lobster Dinner ticket holders receive a whole Maine Lobster, steamed clams, salt potatoes, freshly picked sweet corn, coleslaw, rolls, homemade brownies, and iced tea. In addition, to lobster dinners, a la carte choices will be available (priced individually).

FOOD
12:00-4:00 PM each day
A la Carte Menu is priced individually:
Fried Chicken $14
Yellow Cab Sausage Grinder with Peppers & Onions $11
Hamburger (8oz) $10
Cheeseburger (8oz) $11
1/2 Dozen Clams $7
Local Corn on the Cob $2
House-made Coleslaw $3
Local Salt Potatoes $3
House-made Brownies $3

LIVE ENTERTAINMENT
1:00-5:00 PM each day:
Saturday - Bob's Brother's Band (Classic Rock)
Sunday - Diana Jacobs Band (R&B/Blues/Soul)

TICKETS
Lobster Dinner Tickets - $59.99, plus tax (includes admission)
General Admission - $15
*Tickets are non-refundable and the event will go on rain or shine.
**Please note: Tickets are non-refundable and the event will go on rain or shine. If you purchase a Lobster Dinner ticket, you are guaranteed a lobster. If you wait to purchase at the door, we can't guarantee lobsters will be available.